Using Digital to Build the Marriage Movement
Freedom to Marry's use of digital played a critical role in the organization's work and the implementation of its national strategy, the Roadmap to Victory. The digital team supported the campaign's focus on rapidly accelerating the growth in public support for marriage, mobilizing supporters into an effective movement, and making the case for marriage in the court of public opinion.
In 2010, Freedom to Marry reinvented itself, morphing from primarily serving as an internal movement strategy center and catalyst into the full-fledged, on-the-ground, outward-facing central campaign. As part of the reconfiguring and ramping up, Michael Crawford was hired as Director of Digital and Creative to build a team and shape the kind of cutting-edge digital program needed to drive the narrative and mobilize activists in order to achieve Freedom to Marry's ambitious goal of winning marriage nationwide.
Over the next 5+ years, Freedom to Marry:
transformed its website into the marriage movement's central resource for advocacy, storytelling, and fundraising;
created the Digital Action Center, the central digital hub for, and back-end of, state marriage campaigns;
built campaign-specific public education and organizing websites including websites for Why Marriage Matters, the Respect for Marriage Coalition and Familia es Familia;
launched active social presences on Facebook, Twitter, Tumblr, and Instagram;
created and distributed a flood of social graphics and visual content, including more than 40 web videos.
Development of the Digital Program
In 2010, Freedom to Marry launched a comprehensive digital program including a completely redesigned website, more robust email and online fundraising programs, and an enhanced social media presence. The digital team also worked to support the other teams in the organization, especially the communications, development, and messaging teams.
The "new" Freedom to Marry site was launched in February 2010 with refreshes to the design occurring in 2012, 2014, and 2015. The site was specifically designed to serve as a central hub for marriage advocacy, make the case for the freedom to marry, and communicate the campaign's point-of-view on news and related developments so as to frame the discussion for activists, the media, the public, and decision-makers.
Storytelling
Telling emotionally powerful, authentic stories in compelling ways was a key tactic in achieving a crucial element of our strategy, building a critical mass of public support for the freedom to marry (ultimately, we grew support from 27% in 1996 to 63% in 2015). People are hard-wired to connect to stories, and those stories can invite conversations, change hearts and minds, build bases of support, generate donations, and inspire action.
Much of Freedom to Marry's storytelling work was concentrated, or originated, online. Through written online profiles, videos and advertisements, placements in traditional media outlets, and social media, Freedom to Marry consistently and authentically showcased the faces of people from all across the country who needed to be able to say "I do," marry in any state they chose, and be sure their marriages would be respected by the all states and the federal government. Our central goal was to spark and frame the millions of conversations needed to change hearts and minds and build momentum and a critical mass of support.
Igniting Digital Action at the State Level
As Freedom to Marry began working energetically to win marriage in more states and shape the development and successful pursuit of state-level legislative, public education, and ballot campaigns, an urgent need to support state-level marriage campaigns with little to no capacity in digital became apparent.
What began as offering one-off support to a handful of states ultimately turned into the Digital Action Center—the central hub of digital organizing and digital back-end for state campaigns within the marriage movement. The Digital Action Center was led by Cameron Tolle, who began work with Freedom to Marry in 2010.
Beginning in 2011, Freedom to Marry's Digital Action Center established a full-service digital shop that built winning campaigns from the ground up, led digital strategy day in and day out, and delivered concrete results to help secure game-changing victories at the ballot box and state legislatures nationwide. The program began as one staffer leading strategy in one state but quickly expanded into five full-time writers and designers and numerous consultants. The combination of local involvement and central guidance and support set a new standard for efficiency and effectiveness for the broader LGBT movement and others, and enabled us to integrate the state work and national narrative that were both parts of our ongoing overall strategy.
In nearly every state campaign, Freedom to Marry's Digital Action Center built the digital presence and program from scratch – and from the ground up. Work included (but was not limited to): branding, website design and coding, website content development, social media, digital storytelling, email list growth and program, blog content and maintenance, rapid response, directing digital and social media for key in-person moments in states nationwide, and online fundraising. Throughout it all, integration with other Freedom to Marry programs (including communications, field, and fundraising) and all central staff (in particular campaign managers and state leads at Freedom to Marry) was key.
Harnessing the Power of Online Video
One of the most effective ways of telling stories in the digital realm is through the use of video. From 2010 through the historic 2015 Supreme Court ruling in favor of the freedom to marry nationwide, Freedom to Marry created more than 40 online videos and generated millions of views across various social media platforms.
The visceral nature of video allowed us to tell emotional stories of real same-sex couples harmed by marriage discrimination, elevate the voices of non-gay messengers who became critical allies in the fight, and communicate information and values in visually dynamic ways. By showcasing the stories of a wide range of messengers, we were able to share the stories of LGBT people and allies of many different races, from young to old, from every region of the country, and from different socioeconomic backgrounds. We put a particular emphasis on "journey stories" and non-gay validators alongside stories of couples and their kids. The diversity and authenticity of stories and messengers helped us to reach potential supporters with stories that they were more likely to be able to connect to. And throughout, we connected the individual elements to the central narrative and overall framework we drove nationally.
We built the video content strategy using insights gleaned from research commissioned by Freedom to Marry and our partners on what authentic messages needed to be emphasized to move reachable-but-not-yet-reached voters into the "supports the freedom to marry" category, as well as messages that would further passion and excitement among the marriage movement's base.
Using Social Media to Scale Our Message
Freedom to Marry built social media presences on Facebook, Twitter, YouTube, Tumblr, and Instagram for a combined total of more than 800,000 followers across platforms.
Facebook was our most effective platform for engaging our audience and reaching potential supporters. The size of the platform also made it ideal for targeting persuadable voters who had not made up their minds about same-sex couples and marriage. The visual nature of the channel was a perfect match for the images created by Freedom to Marry – including photos, video, and graphics.
Twitter was extremely effective for amplifying news when it came to highly concentrated news items. We used Twitter to share breaking news and key news stories about Freedom to Marry and the marriage movement, and to share Freedom to Marry's perspective on developments, shaping reactions and connecting them to our ongoing narrative and key themes. We were able to reach journalists, bloggers, and other influentials using the platform.
We used Twitter and related apps like TweetDeck to monitor breaking news – for example, court rulings and subsequent developments on the ground as court rulings spurred the first same-sex couples being able to marry in states across the country. By setting alerts for certain states on Tweetdeck, we were able to instantly monitor if and where same-sex couples were receiving marriage licenses.
We used YouTube as a key distribution site for our video content, with Freedom to Marry videos receiving more than 3 million views on YouTube in five years.
We used Tumblr as the home base for two of our biggest social media campaigns: Right Side of History in 2013, and a live blog on June 26, 2015 when the Supreme Court issued its marriage ruling. In both cases, Tumblr proved to be a very flexible platform that enabled us to easily "re-skin" our page with new campaign branding. Tumblr's tagging function allowed us to have an easy tagging system for different topics such as individual states, legislation and the first marriages as new states came online.
We used Instagram to engage our base with upbeat and powerful images of same-sex couples.
Both Facebook and Twitter were very useful when it came to amplifying media stories about Freedom to Marry and key developments in the marriage movement. We created graphics with quotes from new stories or court rulings and links, often with an accompanying photo, on Facebook to drive traffic to these stories or our website. These stories helped us make the case that same-sex couples are looking for what all couples are looking for in marriage: love, commitment, and connection.
We were also able to partner with the communications team in amplifying statements and press releases. Statements were often included in blog posts for Freedom to Marry, which we pushed out using our social media.
One particularly successful campaign for our social media was #LoveMustWin, which we implemented in the lead-up to, during, and after the 2015 Supreme Court oral arguments about the freedom to marry. We introduced the hashtag #LoveMustWin across our social media channels, calling for people to submit creative representations of that hashtag – an art project, a song, or even baking something with the hashtag written in icing. We received great, creative, and sweet submissions, including pictures of members' babies and pets.
In order to draw content from individual states and amplify the drumbeat there while connecting it to our national narrative, we made sure to amplify the work in the field of state partners such as Equality Georgia, Equality Alabama, and Equality Florida. On our Southerners for the Freedom to Marry social platforms, we shared state groups' content and gave them content to link to. Because many state groups, especially in the South, had limited resources, we lent a hand in creating graphics and emails for them. This allowed us to help ensure and echo-chamber effective messaging, and make it heard in every corner of the country.
Freedom to Marry often created content that did not include our branding, especially when assisting to get the message out to members of the state organizations. Helping state groups with their work also facilitated trust between the state groups and Freedom to Marry. This trust meant that the state groups were aware that Freedom to Marry, although a national, central campaign, fully intended to support and assist on all levels of the fight for marriage – including helping out other organizations with more limited capacity. We were in it to win, not to promote ourselves.
Fueling the Movement Through Online Donations
Part of Freedom to Marry's emphasis on strengthening its digital presence included building a robust email program. With that enhanced digital program came a more intentional focus on generating donations online. Between January 2010 and August 2015, we raised more than $3 million in online donations from more than 18,000 supporters. That was money that, before we morphed into the national campaign, our movement had previously "left on the table."
The primary goal of the online fundraising program was to generate small-dollar donations through email, social media, and other digital means. Freedom to Marry's digital team lead the online program and also supported the work of the development team by creating donation landing pages and event landing pages, managing email campaigns focused on major donors, and creating creative collateral including graphics, signage, and ads for major donor campaigns.

The digital and development teams partnered on each year's end-of-year fundraising campaign with the digital team having primary responsibility for small-dollar donations and the development team leading outreach to major donors. The two teams collaborated on the campaign's theme(s) and the messaging and creative collateral.

The online fundraising program also included the design, development, and management of organizational swag, including t-shirts, posters, bumper stickers, beach towels, socks, books, and works of art.
Key Freedom to Marry Digital Campaigns
We created a series of digital campaigns that combined storytelling, social media, and video to build momentum, advance Freedom to Marry's ongoing narrative, and engage new supporters. Each campaign was a connected to a key organizational goal and target audience.
Mr President, Say "I Do"
In February 2011, Freedom to Marry launched Mr. President, Say "I Do", a campaign to apply pressure and pave a pathway for President Obama to speak out in support of the freedom to marry. The campaign began with an open letter to the president signed by a range of influentials in disciplines including business, civil rights, entertainment and tech. Signers of the letter included Julian Bond, David Geffen, Ellen and Portia DeGeneres, Helen Chavez, LeeAnn Rimes, Larry King, Anne Hathaway, Caroline Kennedy, and Melissa Etheridge.
We invited the general public to sign the letter as well to show that there was broad public support for the president expressing public support. More than 120,000 people signed the letter. As part of our efforts to build the number of signatories on the letter, we ran Facebook and Google search ads linking to the letter. For the Facebook ads, we used creative that featured some of the celebrity signers, including Jane Lynch and Martin Sheen. We then targeted those ads towards of those celebrities. For example, we created a Facebook ad featuring Martin Sheen that referenced his role as President Bartlett and targeted that ad towards fans of The West Wing. The digital effort was paired with strong earned media outreach and active communication with the Administration – and then ratcheted up again in early 2012 with our call for entactment of a freedom to marry plank in the Democratic Party Platform (see below). President Obama announced his support for the freedom to marry on May 9, 2012.
Democrats: Say "I Do"
In February 2012, Freedom to Marry launched Democrats: Say, "I Do", a campaign calling on the Democratic Party to add a plank supporting the freedom to marry to the Party's national platform. As with our "Mr. President, Say I Do" campaign, we launched the push with an open letter to the members of the Democratic Party Platform Drafting Committee. We enlisted Democratic elected officials, state party leaders, and other prominent Democrats, to sign our letter, including Democratic Leader Nancy Pelosi, Sen. Chuck Schumer, former presidential candidate Howard Dean, Sen. John Kerry, and Rep. John Conyers. More than 42,000 members of the public signed the letter as well. We accompanied the public push with quiet engagement with the White House, the presidential campaign, and the DNC, making a political case alongside the moral, media, and public push. President Obama joined in supporting the freedom to marry in May 2012, and the Democratic Party added the plank to the platform at the Democratic National Convention on September 4, 2012.
Freedom to Serve, Freedom to Marry
We launched the multimedia campaign Freedom to Serve, Freedom to Marry in partnership with Servicemembers Legal Defense Network to highlight the negative impact that DOMA had on service members in committed relationships – part of our broader demonstration of the many ways DOMA harmed many families. Our campaign encompassed a dozen videos (see an example below) including motion graphics and conceptual pieces as well as real-life profiles of couples impacted by DOMA. The digital team worked closely with Freedom to Marry's communications team to pitch earned media stories on the campaign and the couples involved. When President Obama announced his support for the freedom to marry, he mentioned the importance of marriage to gay service members and their families as one of the things that influenced his decision.
Right Side of History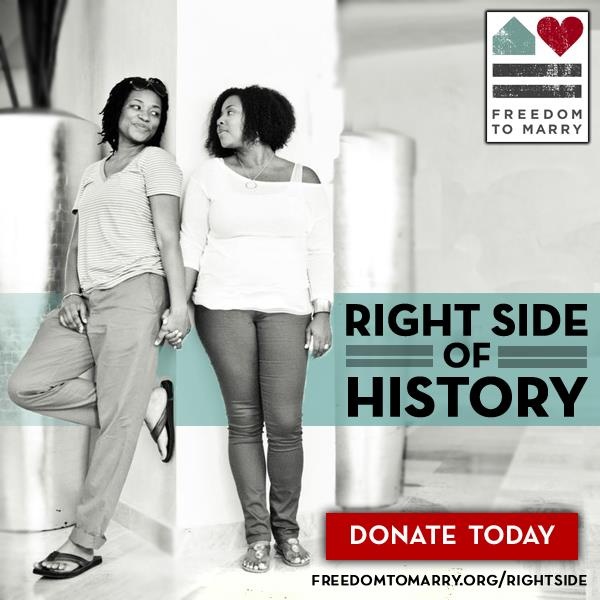 In November 2012, Freedom to Marry launched our end-of-year fundraising campaign with the theme Right Side of History. That campaign was so successful that we used the same theme for our social media engagement around the 2013 Supreme Court oral arguments on cases relating to DOMA and Prop 8. With the campaign, we wanted to engage our supporters in shaping the climate around the Supreme Court, urging decision-makers, including the justices, to join the majority of Americans on the right side of history by ruling in favor of the freedom to marry nationwide. We created a special "Right Side of History" Tumblr that served as the homebase for social media content, videos, information, action items, and stories that we urged our supporters to share across the social web. We ran a robust email campaign and campaigns on Facebook and Twitter directing supporters to the best content that they could then share. We built a list of the most committed Freedom to Marry supporters to serve as brand ambassadors. We then sent this highly targeted group weekly emails with the best performing content and action items that they could use to help spread the word and get others to speak out. This group was small, but their email open and action rates were astronomical. In its ruling in June 2012, the Supreme Court struck down the core of DOMA, ending federal marriage discrimination, and let stand a lower court ruling that overturned Prop 8, restoring the freedom to marry to California.
Southerners for the Freedom to Marry
In early 2013, Freedom to Marry launched Southerners for the Freedom to Marry, bringing together 14 state organizations in Southern states working on marriage for same-sex couples as well as our partners at the Campaign for Southern Equality, a grassroots organizing team we supported. The mission was twofold: Develop relationships with state organizations to support their local marriage organizing and arm them with the resources they need, and amplify on a national level stories of Southerners calling for the freedom to marry nationwide. We developed a Southerners for the Freedom to Marry specific section of our website specifically devoted to the Southern states: www.freedomtomarry.org/South and campaign branded presences on Facebook and Twitter. The subsection brought together stories of couples and families from the South, blog posts about the Southern states, and information specifically on the Southerners program (such as high-profile Honorary Co-Chairs and partner organizations).
From February 2014 through June 2015, the subsection served as a hub for videos and other content, including the February 2015 "Spirit of the South" campaign that focused on a deeper look at same-sex couples in Birmingham, Alabama. A robust email program that highlighted the stories people living in Southern states and encouraging additional pledges/email signups through online action accompanied the campaign. The Southerners for the Freedom to Marry program had its own Facebook and Twitter properties, as well as its own visual style and brand. We created and published more than 100 Southerners-specific graphics on Facebook and Twitter, pulling together quotes from elected officials, quotes from Southern celebrities and supporters, infographics and shareable elements about court cases in Southern states, and photo-heavy graphics about Southern couples and legal developments. In addition to Southerners for the Freedom to Marry, Freedom to Marry staff provided digital support to state organizations in the region including email writing, social media and content creation.
Team Marriage
In the spring of 2014, Freedom to Marry launched Team Marriage, a branded donor program of supporters who pledged to stand with us to "finish the job." The campaign included three donor levels: Friendship Ring - $35, Commitment Ring - $100 and Engagement Ring - $1,200. The benefits of the program include exclusive t-shirts, lapel pins, bumper stickers and briefings from Freedom to Marry staff. We launched Team Marriage 2015 as part of the 2014 end-of-year fundraising at special pre-sale rates. We wound down the program after the Supreme Court ruling in favor of marriage nationwide.
#LoveMustWin
In advance of the 2015 Supreme Court oral arguments on marriage, Freedom to Marry launched #LoveMustWin, a social media campaign to demonstrate the importance of a nationwide ruling in favor of marriage as quickly as possible. For the campaign, we invited marriage supporters to create and share on their social platform of choice with the #LoveMustWin hashtag. We created a special landing page on our site where we uploaded a curated selection of the user generated content. We also shared on Freedom to Marry-branded social pages content created by our supporters. There were more than 54,000 uses of the hashtag, including more than 32,000 on the day of the Court's oral arguments. The campaign garnered participation from more than 40 political leaders including Secretary of State Hillary Clinton, Sen. Elizabeth Warren, and Sen. Harry Reid; brands including Ben & Jerry's and Chobani; and even Broadway shows including Kinky Boots, On Your Feet, and It Shoulda Been You. Major media outlets including MTV, U.S. News and World Report, and CNN Politics published stories on the campaign.
#LoveWins
Freedom to Marry and partner organizations used the hashtag #LoveWins on social media to celebrate the historic Supreme Court ruling in favor of the freedom to marry nationwide. The hashtag became a top global trending topic on Facebook and Twitter. We also considered using the hashtag #LoveWon, but ultimately decided on #LoveWins because it was a more action-oriented phrase that fit with Freedom to Marry's affirmative emphasis on doing the work. We deployed the hashtag in emails, social media posts, and graphics immediately upon the announcement of the Court's ruling. At its peak, 35,000 tweets per minute were being posted using the hashtag, including by elected officials and celebrities.
Key Lessons Learned
Integrate digital into the fabric of the organization's work: Because digital is a prime tool of mobilization as well as education and engagement, Freedom to Marry made digital a core part of its work across the board. Digital staff should be at the table when strategies are being developed, decisions are being made, messengers are being enlisted, and messages are being crafted.
Place storytelling at the center of your digital work: From our Roadmap to Victory to text and video profiles of couples and messengers, Freedom to Marry made strong use of storytelling – diverse, personal, emotional, local, and authentic -- in its work. Storytelling helps supporters and the public better connect to your goals, strategy, and ways they can help.
Use digital to advance your narrative: Increasingly people are getting news online. Use your email, website and social media channels to be the first to reach your supporters with news relevant to your issue and your organizational perspective. Make sure that whenever a press release or statement is sent from your organization that you accompany that with a social media push that reflects that message and tone.
Own key moments online through rapid response: Owning key moments online is a crucial part of a results-driven digital program. In a media landscape that is increasingly influenced by social media, your ability to respond quickly will help to frame questions in your favor and engage a growing base of supporters willing and well-prepared to take action.
Prepare content in advance for big decisions: A big part of being able to respond rapidly is to prepare as much content as possible in advance. When you are expecting court rulings, votes in legislatures, or other big decisions, create email, blog, and social media content for multiple scenarios in advance. This will enable you to launch your content quickly and to frame and sustain your narrative.
Leverage social media to scale your outreach and advance your narrative: Social media has become an ingrained part of many people's lives and connection with politics and news. By crafting content that inspires your supporters to share, you can, through them, reach a broader range of potential supporters. When deciding on which platforms to use, be sure to research which platforms are being used by your supporters. Also keep in mind the particular nuances of each platform. For example, Facebook is a more emotional platform, Twitter is great for sharing news, and Instagram is visual.