New Fathers Marry in New York After 11 Years
George Constantinous & Farid Ali Lancheros • New York, NY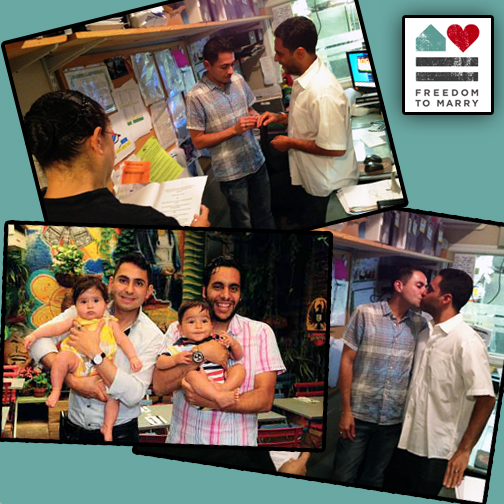 This story was originally published in August 2012, one year after the New York Legislature extended the freedom to marry to same-sex couples in New York.
In the middle of June, just over two months ago, George Constantinous and Farid Ali Lancheros were more excited than ever about getting married - finally, after 11 years together, they would be making it official. After working hard on the campaign to pass the freedom to marry in New York last summer, when they contributed their story to Freedom to Marry's video series on why marriage matters to New Yorkers, George and Farid were excited and relieved that their relationship would finally be formally respected by the state.
The previous year had been hectic for George and Farid; in November, they welcomed two children into the world, Gustavo and Milena, and the restaurant they own and operate, Bogota Latin Bistro in Park Slope, Brooklyn, continued its upward momentum.
"We kind of did things out of order," George joked. "We were together for 11 years, then we had the kids, and then we got married. People have always kind of assumed that we were a married couple."
Between these two enormous responsibilities - their business venture and the infancy of their twin babies - George and Farid hardly had time to get to the courthouse and apply for their marriage license. But when they began the process of applying for second-parent adoption so there were no legal questions that they both are the rightful parents of Gustavo and Milena, they got around to filing for their marriage license, too.
After they are granted by the state, marriage licenses in New York are valid for 60 days.
"We figured we'd have two months to plan a wedding and get all of our family involved," George said. "But sure enough, the next thing you know, we were at the end of our two month cycle, and our marriage license was about to expire."
On August 13, the day their license was set to expire, George and Farid ran a race against the clock to find an officiant to legally marry them. They finally secured someone through their bookkeeper to agree to come to the restaurant after work and perform the ceremony for the couple before the 6pm deadline.
"We were down to the wire, and then this angel came out of nowhere. She came to the restaurant, made these really great, touching, and beautiful vows for us to read, and she married us."
The ceremony was as small as it could possibly be - just the officiant, an employee who served as a witness, and George and Farid. They shared their vows and swapped their rings in the cramped back office of the restaurant.
"When we announced on Facebook that we had gotten married, people were surprised because they know us to throw big parties," George said. "They were like, 'When's the party? When's the party?'"
The couple is now in the process of planning the "party" portion of their wedding, where they'll stand before their family members, friends, and children to commit their lives wholly to each other.
Of course, George, Farid, and their friends know that their wedding is not just about having a great time with the people they love.
"It's about commemorating the fact that the two of us are very dynamic and we've been an incredible example of what two people joined together can accomplish," Farid explained. "Even more so, we're two great models of breaking stereotypes for marriage, relationships, and homosexuality. We're married now, we've got a successful business, a successful relationship, and babies. People want to join in on honoring that."
When they look back at their lives over the past year, George and Farid can't believe how quickly the time has passed. Perhaps as a result, they're committed to enjoying every minute, especially now that they have two adorable children to comfort, protect, and look after. They're excited to be able to do all of those things as a formal family unit that's respected and celebrated by the state of New York.
"It's amazing to think that 14 months ago, we couldn't legally get married, and now we can," George said. "It's just a different feeling. It's being able to show people that this is my relationship, this is my partner. My partner for life."
Watch last summer's video of George and Farid making the case for marriage in New York: